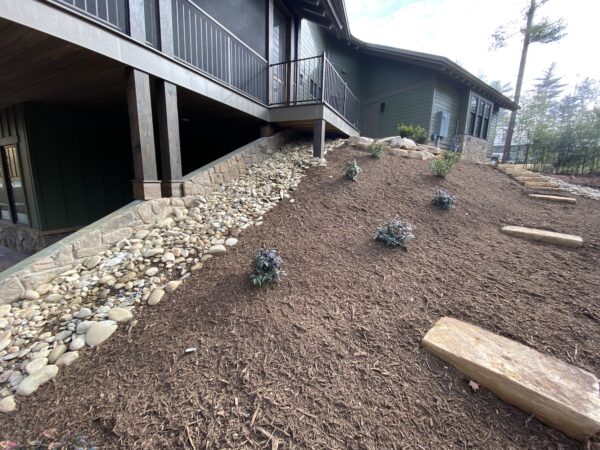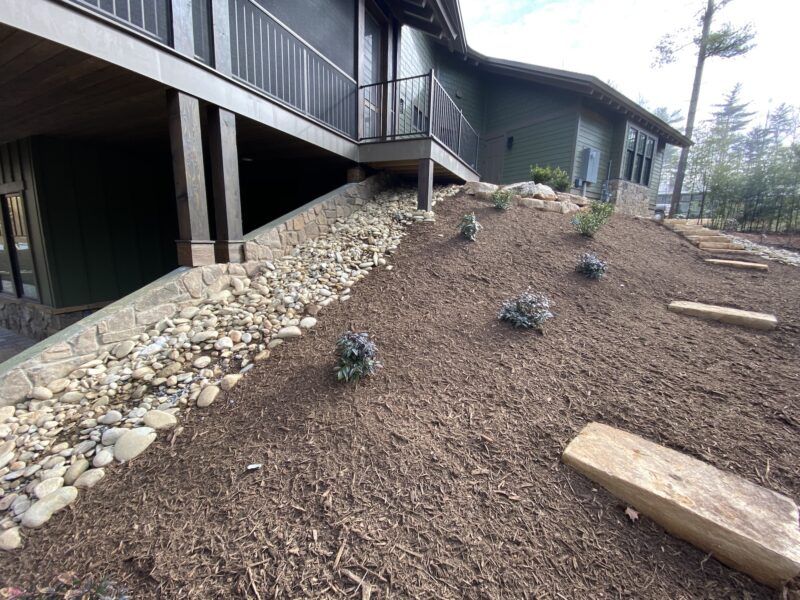 Kannapolis is known for its cultural recreations and one of the most affordable places to live in North Carolina for families. With all the establishments that keep this wonderful city home to its residents, it is only proper that properties are taken good care of. One way to do this – is for yard owners to take care of their landscapes, such as residential lawns or yards with trees. Mulch Solutions is the best option for Kannapolis's mulch products and services because it knows that your time and other resources in this city are greatly valuable.
We value your convenience. Our company understands how laborious and time-consuming it could get to carry around bags of mulches and other mulching materials around different places for hours. You will be exerting energy to carry these bags, drive to and from the mulch store, and still unload these things again. It doesn't end there; you will also need a landscaping expert to do the mulching project for you, which is, by the way – hard to find in Kannapolis right now more than ever. We know this struggle by heart, that is why our company offers to deliver products and services straight to your yard! That is right; we will cover all the bulk materials, delivery, and unique mulching services in one complete package while minimizing your costs.
We use a high-technology mulch installation called Blow-in Mulch Service Method. The method uses our exceptional blower truck for a more precise, more affordable, and cleaner option. You won't worry about the annoying debris lying around after the process because our truck can hold materials up to 30 cubic yards in bulk and has a length of up to 300 ft of hose for precise application. Speaking of precision, it has a built-in system that calculates the exact measurements, rates, and other quantities in real-time so you can track the accuracies.
Mulch Kannapolis NC & More!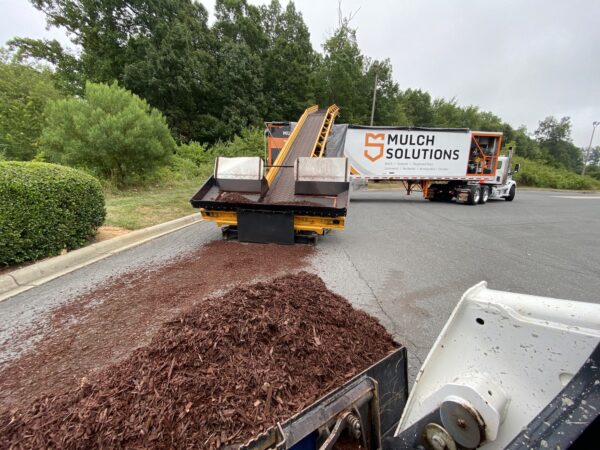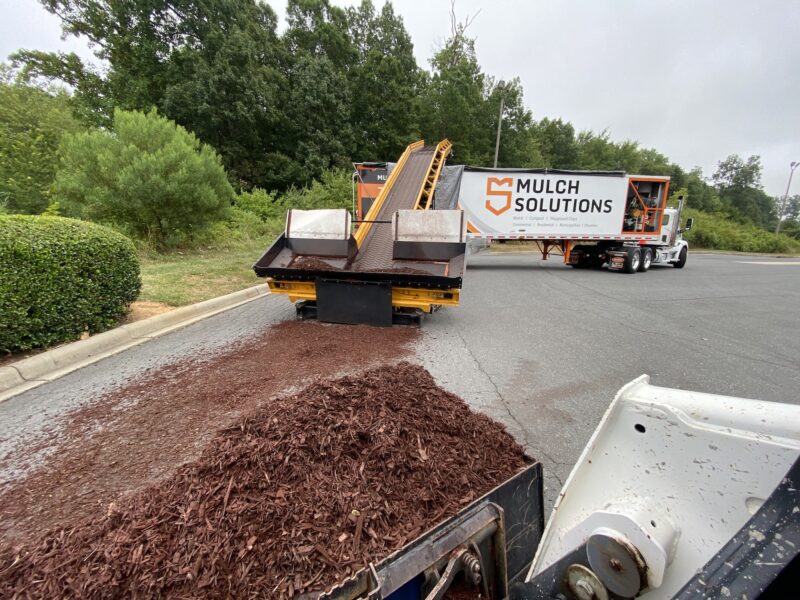 Do you have a landscaping project in Kannapolis, NC? Don't need to look for more because the best mulch products and services are in Mulch Solutions. We offer all sorts of mulching materials and advanced blow-in services. Our products include:
Mulch – watering plants every now and then – especially in vast landscapes can be too time-consuming and inefficient. Installing mulch in your landscapes not only makes the landscape look more put-together, but it also prevents moisture from the soil from evaporating. What else? It regulates temperature in the soil while preventing weeds from growing around your plants. So if opt for low-maintenance landscape beds, playgrounds, or green roofs – you can trust us with the best and highest quality mulch.
Sand – sand makes any landscape instantly gorgeous, especially when the grains are as fine and seamless as ours. Our sand is perfect for athletic fields, playgrounds, turf-top dressings, and more!
Aggregates – working on a project in need of aggregates like construction foundations, nature trails, crawl spaces, or even roofs? We will deliver these straight on-site in the form of round rocks, soil blends, crushed rocks, cinder rocks, and more depending on your specifications.
Soil & Compost – you can never go wrong with plants in making landscapes more attractive. Mulch Solutions will help provide a healthier foundation for your plants to absorb all the proper nutrients they need to glow with vibrant colors. Just don't forget to also get our mulch to ensure healthier and more efficient plant growth.

Terraseeding ®

– one of the things that our blower truck can do is to provide the perfect solution to hardly accessible areas that traditional trucks can't reach. Among many things, you can also count on it for slope stabilization and erosion & sediment control.
Local, Trusted & Insured
Our founder, Mack Partee, is a native North Carolinian who devoted his career to building his knowledge and experience in landscaping and technologies associated with it. In college, he majored in B.S. Turfgrass at Clemson University and meticulously worked on several prestigious private golf courses all over the United States, including Augusta National, Home of the Masters, and Country Club of the Rockies. He further expanded his background in the commercial landscape industry, and along the way, he took a particular liking to the blower truck technology. He developed a great fascination with how fast the once tedious and laborious process of mulch installation by traditional landscapers can now happen better and quicker – hence, he started our company called Mulch Solutions.
With this credibility, do we need to say more? You can trust us with your mulching needs because our company prides itself on pure expertise and integrity in the field. We make sure to only deliver the best of the best of our materials and services to you. So if you live in Kannapolis, NC, availing of our products and services also means that you are helping your local community thrive. And why wouldn't you? We have the best and premier mulch blowing service in town!
Commercial, Industrial, Municipal & Residential
We deliver our mulch blow-in service on Kannapolis's various markets such as Commercial, Industrial, Municipal, and Residential.
Commercial

– If you own commercial space in Kannapolis, then Mulch-Solutions is the service for you! Attract more customers and gain more profit from a better looking landscape.
Industrial – Industrial spaces need to be presentable and in order. Mulch-Solutions provide efficient and cost-effective mulching delivery for your industrial yard and landscape.
Municipal – For municipal landscape, our company has the right premium services for you. Not only do we offer cost-efficient services, our expertise in mulching services will guarantee high-quality services for your municipal properties.

Residential

– If you're located in Kannapolis, then you know that your house should be maintained in order. Getting a good mulching service for your residential property will help you keep your area in order.
Our company's primary service offerings include the following:
Erosion and sediment control
Playground installation
Slope stabilization
Flood prevention
Streambank restoration
Stormwater management
Green roof installation
Suppose you are in the following areas and looking for the best services mentioned on your site. In that case, Mulch Solutions is the most trustworthy option for your commercial, industrial, municipal, and residential landscapes.
Contact Us Now for Mulch Kannapolis NC
If you want to avail of our premier services with friendly prices for your projects; or simply have more questions, contact us through the platforms below. Our crew in Kannapolis, NC, are highly responsive!
Call us at our phone number: 704-617-2225
Send us an email: info@mulch-solutions.com
Visit and like our Facebook page