Providing Premium
Commercial

Mulch Blowing
We Service Several

Markets
We provide premium services for local and regional companies in the Charlotte metro-area. Our mulch blowing services deliver high quality results in landscaping, erosion control, and construction related applications. Using our unique blower truck technology, we can get the job done in the most time efficient and cost-effective way. With our trained operators and applicators, the ability to apply uniform coverage is another advantage of this service by delivering needed materials to hillsides, tough terrain, and all hard-to-reach areas.
Erosion and sediment control

Playground Installation

Slope Stabilization

Flood Prevention

Stormwater Management
If you've ever been in a commercial building in Charlotte, North Carolina, you'll know that great landscaping is a game-changer. That's right, good soil and plants can drastically change the look and ambiance of any commercial building – even your whole area. But how do you achieve that in an urban location? The answer is commercial mulch blowing. This technique transforms soil through layering materials that improve soil quality. With ten years of experience in the commercial landscape industry, Mulch-Solutions Services has helped transform numerous commercial land all over Charlotte, North Carolina.
Getting an excellent commercial mulch-blowing service might get a little challenging for customers like you. Good thing we made a list to help you assess the best service delivery for your commercial mulch blowing needs in your area in Charlotte, NC. So If you're planning on getting your commercial space revamped through mulching, you MIGHT want to put a bookmark on this article for your reference.
Here's a list of the crucial things you need from a commercial mulch blowing service provider to make sure that your mulching is done right:
Professional Expertise. Mulching, if not done correctly, may cause damage rather than beautification to your landscape, which you wouldn't like. Keep in mind that you need to get one that has numerous years of experience to make sure that you get the right people on the field and work is done with utmost knowledge and skills.
Wide range of available materials. Commercial mulch-blowing works by layering "mulch" on the soil. This means that materials get mixed, so choosing the right type of mulch is an important task! Our company, Mulch-Solutions Services, has a wide range of readily available products for you to make sure that there's access to suitable materials and you don't commit the mistake of getting the wrong materials for your commercial space.
Up to date equipment. Equipment is critical in filling bulk land as fast and as effectively. This is why Mulch-Solutions invested in unique trucks and high-power blowers to ensure that you can get the quality service through the top tech ever available for mulching services!
Proximity. Your distance from your service provider is also vital to secure a quick response whenever you encounter maintenance concerns in your space. As a property owner, you don't want the trouble of waiting for help to arrive. Here's a tip: Try searching for "Mulch near me" when looking for commercial mulch blowing services. In Mulch-Solutions, we pride ourselves on our fast response anywhere within the metro area of Charlotte, North Carolina.
Mulching big spaces is a great challenge for anyone like you who wishes to elevate their landscape. The amount of work using traditional ways of mulching is just intimidating! This is why we use cost-efficient blower trucks and hoses to fill bulk areas of land. Through technology, the Mulch application becomes faster, resulting in shortened working hours for our dedicated staff and increased savings for you! Our company uses top technology to make sure that we provide you with the best equipment in the industry. You benefit not only from quality mulching but also from its affordability, mobility, precision, and SO MUCH MORE.
Commercial mulch blowing covers so many other benefits and services for your land area. From soil surrounding concrete commercial spaces to land near bodies of water located in commercial areas, commercial mulch blowing can benefit you! We also have a great expanse of clientele that we serve and continue to operate. Check this list, and you might find your commercial space under these classifications, then you know we can help you!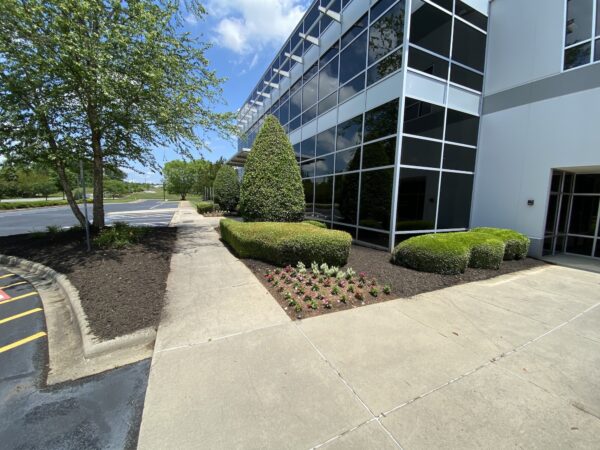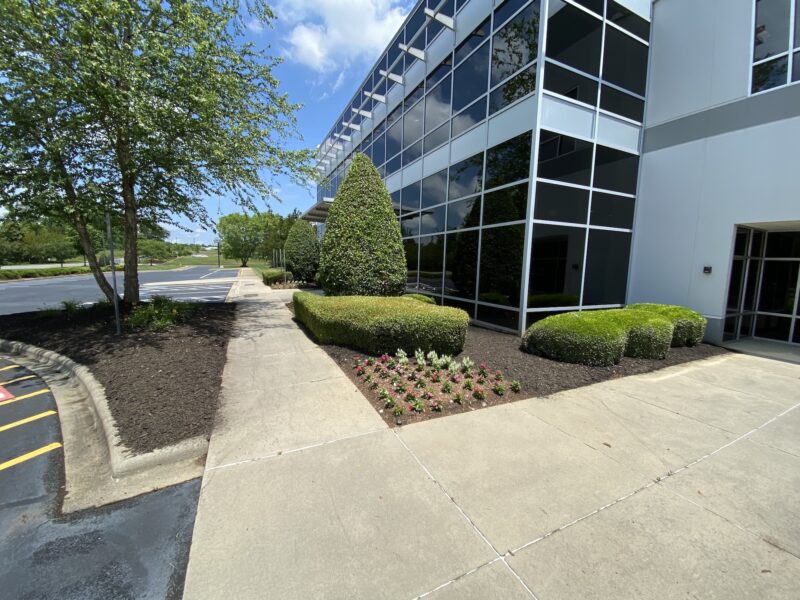 Offices
Parks
School district maintenance
Engineering
Horticulture
City gardeners
Environmental coordinators
Field services
Construction Services
Precise Measurements
So how do you cover so much area while keeping your measurements in check? We use technology! Because we need to be precise yet time and cost-efficient, we were able to come up with technological solutions in the form of our blower truck mulch services and unique blow-in technology.
Did you know that because of this setup, we were able to save up on transportation costs? That means significant savings for you too! Our trucks can hold up to 30 cubic yards of material without the need to stage them on your land space – you got that right, no need for setting and cleaning up, we can just mulch and go!
We also use a 300-ft hose together with our large blown-in trucks that enable us to fit and reach narrow parts of your land, making sure that you get the most out of our material application! This mechanism also maintains a cleaner and neater workspace because all materials are directly sourced from the truck's storage going to the ground, making work more organized and quick. This hose mechanism also prevents waste of materials as it is calibrated according to the precise amount needed by your commercial space. Because of this strategy, work becomes light, accurate, and overall effective!
Efficiency
Efficient mulch practices will surely save you time and costs as a customer, which is what you want to get. Our services in Mulch-Solutions include the top technology available in the market, ten years of experience in commercial mulch blowing, and our highly-skilled and highly-trained staff, and we can assure you that you get the job done when you get your commercial mulch blowing services from Mulch-Solutions Inc. Efficiency is a priority when it comes to handling materials and getting a bulk amount of land done for our clients.
So if you need a commercial mulch blowing service with the complete qualifications: expertise, readily-available materials, updated equipment, and is located in Charlotte, North Carolina, then Mulch-Solutions is just the service you would want to call!