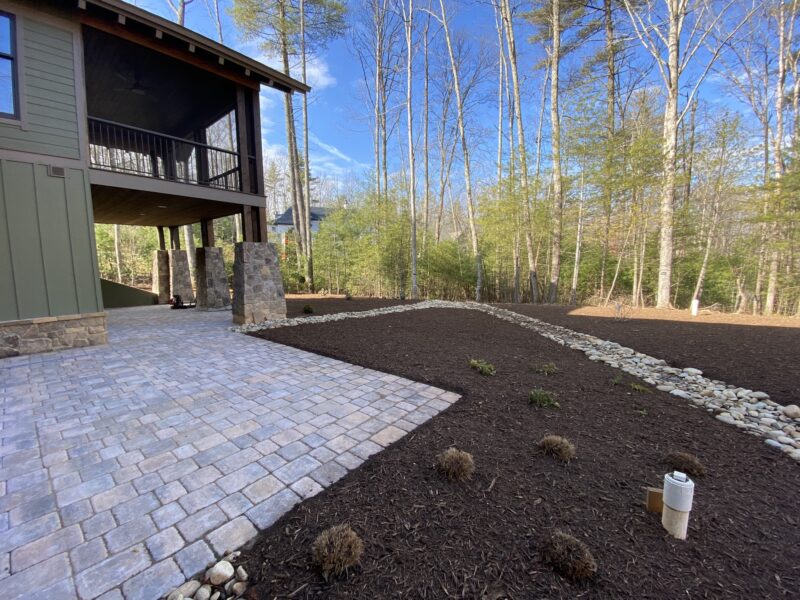 Nothing says a fun, active life than the town of Cornelius, North Carolina. The city has its competitive list of recreational activities, from a great lake adventure to golf courses and a great business ecosystem. There is indeed so much to do in the town of Cornelius. Known for its cotton, the town's land is undoubtedly one of a kind! So if you're a property owner in Cornelius, North Carolina, you might want to get your soil maintained! That's why our company, Mulch-Solutions, offers accessible mulching solutions for you and your property in Cornelis, North Carolina! We have a unique blow-in technology through our top of the line blown-in trucks and a carefully designed hose system that makes mulching so much faster and easier!
Mulch installation is a laborious process. It takes expertise, the right materials, and staffing to achieve quality mulching. Now, if you're going to use traditional methods, it might take you weeks worth of work and money! You are assured that you get the fastest, most reliable, and affordable service for your small or bulk mulching needs in Mulch-Solutions. Our company streamlined the mulching process for you. We invested in the best technology available for mulching. We use unique blow-in trucks that can store up to 30 cubic yards of material, which allows us to have a fast service delivery anytime and anywhere in Cornelius, North Carolina! Our setup is also equipped with a high-quality hose system enabling us to reach the narrowest, smallest areas of your property! With Mulch-Solutions, you're assured that you get the most out of the services you acquire!
If you're looking for a mulch installment service provider for your property in Cornelius, NC, then choose the one that is fast, effective, and has up to date equipment! Our company dedicates its work to contribute to the lands of different towns and cities in Charlotte, like Cornelius. We strive to give you the best and reliable landscaping in Charlotte. With Mulch-Solutions, you know that your mulching service is effectively done with expertise!
The Best Company for Mulch Cornelius NC
If you live in Cornelius, NC, the best mulch products and services can be found in Mulch Solutions. We have the most updated blow-in technology and competitive team all around Charlotte. Our products include:
Mulch – Mulching is key to having a great residential, commercial, or industrial land. It's the secret of how people keep their properties in a superb condition and keep the growth of plants at stable condition.
Sand – Used in athletic fields, playgrounds, and turf-top dressings is our sand! Not only does it create a really cool look for your spot but it's also a great space filler for your property.
Aggregates – best used for construction, nature trailers, crawl spaces, and roofs in the form of; round rocks, soil blends, crushed rock, cinder rock.
Soil & Compost – We also have soil and compost to help you with your leisure gardening hobbies. Not only will this product give you your dream garden but it will also beautify your area. Note: This is best paired with our mulching service and gets long term benefits from improved soil quality and health!

Terraseeding ®

– terraseeding will help you with slope stabilization and erosion and sediment control. Good thing we use our unique blowin truck technology to deliver our terraseeding to you!
Local, Trusted & Insured
The story of Mulch-Solutions started when our founder, Mack Partee, a Charlottean native,  realized the need for a faster mulch-service in Charlotte, North Carolina. Mack is a landscaping professional who majored in B.S Turf Grass. He spent most of his life developing land for extensive commercial grounds like golf courses. His works included golf course projects including Augusta National, Home of the Masters, and the Rockies' Country Club. Because of the need for a faster and more reliable way of mulching combined with his expertise in the field, Mack founded the Mulch-Solutions, a mulch installation company running for more than ten years now! We pride ourselves in being a company that prioritizes our stakeholders' needs, giving them the best mulching solutions possible in Charlotte, North Carolina! Because of this, our clients give back to us through their loyalty to Mulch-Solutions!
We also maintain our company's integrity by keeping the legalities in-check and our business insured! With mulch-solutions, you can be sure that we will fulfill our promises to you one way or another! So if you're searching for a service provider that is local, trusted, and insured, you might want to reach out to Mulch-Solutions for your mulch installation needs.
Commercial, Industrial, Municipal & Residential Mulch Cornelius NC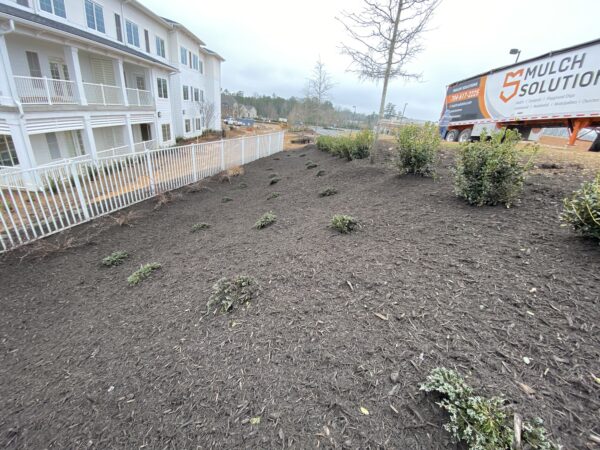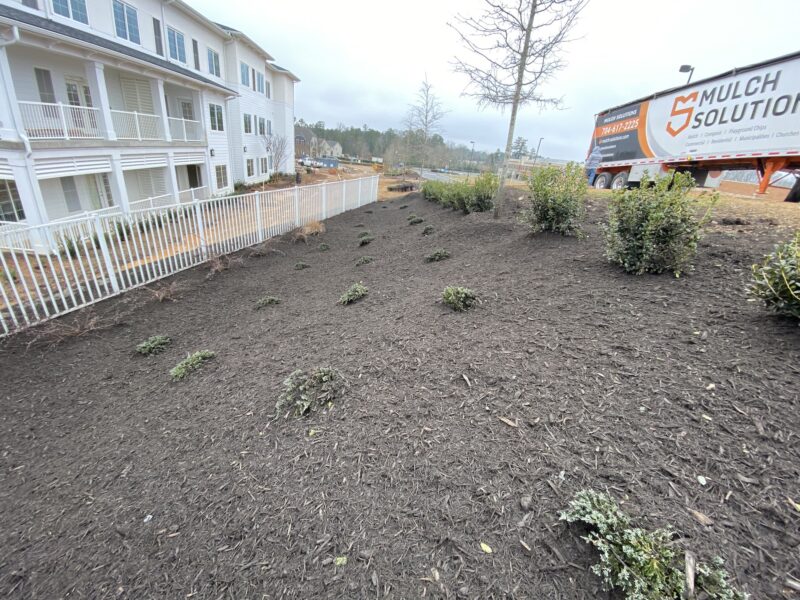 Our blow-in services are applicable in all the following types of properties:
Commercial – In our 10 years of experience, we've helped commercial property owners to increase the appeal of their area, improve workspace for their employees, as well as create a better landscape to attract customers to their business.
Industrial – As for industrial land spaces, cost-efficiency is oxygen. Quality yet cost-efficient mulching is the service that we provide for you. Not only is our services affordable but it will also save materials as the process happens, hence, customers save more money.
Municipal – Municipal areas also need affordable mulching services for them. In Mulch-Solutions we offer premium delivery of our services for municipal properties anywhere in Charlotte.

Residential

– For residential areas, safety is key. Residential properties often have families who prioritize safety above all else. In Mulch-Solutions, we put safety on top of our services thus you are assured that you get the best mulching solutions for your family.
Our company's primary service offerings include the following:
Erosion and sediment control
Playground installation
Slope stabilization
Flood prevention
Streambank restoration
Stormwater management
Green roof installation 
Contact Us Now
If you want to avail of our premier services or simply have more questions, contact us through the platforms below. Our operators in Charlotte, NC are highly responsive!
Call us at 704-617-2225
Send us an email: info@mulch-solutions.com
Visit and like our Facebook page